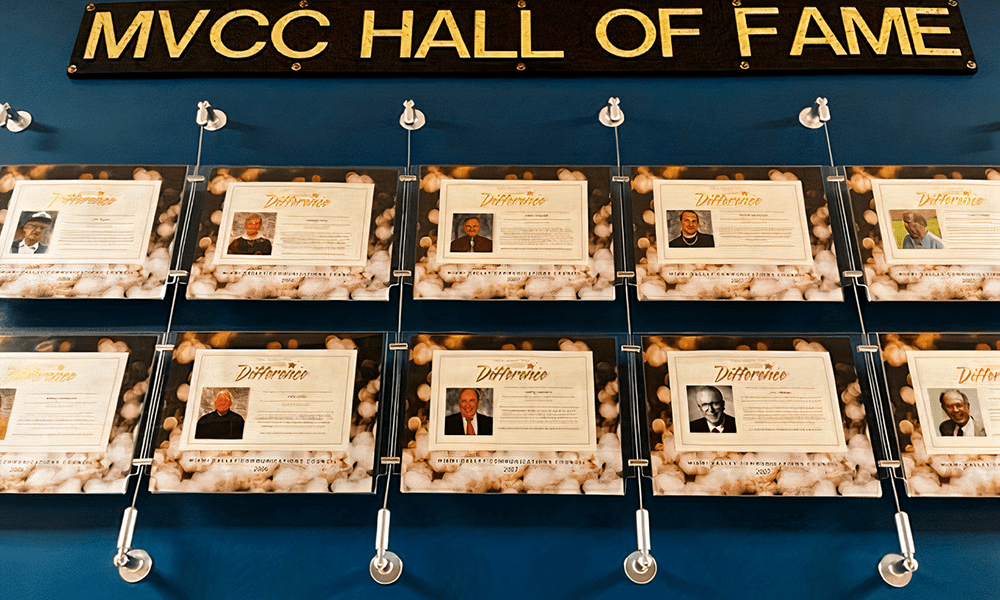 Five Volunteers Added to the MVCC Access Television Hall of Fame
Local producers and volunteers have contributed a combined 205 years towards public access television
The Miami Valley Communications Council (MVCC) has recognized five volunteers for their accomplishments in public access television by inducting them into the MVCC Hall of Fame. These individuals were nominated for their years of commitment, talent, and dedication to creating local programming that reflects the interests of their communities. The volunteers will be honored during the MVCC council meeting to be held on Wednesday, January 18th, 2023, at 4:00pm at MVCC.
Brian Kerfoot, producer of programs such as Runnymead: The Manhattan Project, The Alex Martin Show, Tommy Tours, and The Packard Museum Tour will be posthumously recognized for 43 years of service.
Bob Daley, in addition to covering city council meetings for over ten years, has been the photographer for Centerville and Washington Township for 25 years. Daley will be recognized for 40 years of service.
Tom Karslake is a volunteer for Springboro events such as the Christmas in Historic Springboro Parade and the Springboro concert series, in addition to creating the Work! Talk About What People Do podcast. Karslake will be recognized for 35 years of service.
Ed Huff is a camera operator during MVCC's parade season and has worked on parades for the cities of Centerville, Kettering, and Springboro. Huff will be recognized for 25 years of service.
Todd Browne, volunteer and producer for community access shows Halloween Spooktacular, Two Guys, A Few Movies and Popcorn, and Geek Speak TV, will be posthumously recognized for 19 years of service.
The five volunteers recognized join the 22 other members currently included in the Hall of Fame. The Hall of Fame was created in 2006 to honor those who have given extraordinary amounts of their time and skills to help make MVCC's television channels continually recognized for programming excellence in the midwest.
A video highlighting recent work from the inductees can be seen at MVCC's on-demand streaming service here:  http://vod.mvcc.video:8080/CablecastPublicSite/show/13020?channel=2
The Miami Valley Communications Council operates four cable access channels with cable providers Spectrum TV and AT&T TV. Complete program schedule listings, as well as on-demand viewing, can be found at www.mvcc.video. MVCC was formed in 1975 as a council of governments representing the eight member cities of Centerville, Germantown, Kettering, Miamisburg, Moraine, Oakwood, Springboro, and West Carrollton.